What's up sneakerheads! Welcome to a new entry of the Top Tier blog. This time, Top Tier Trends on June 2 will take a look at the newest sneaker drops and styles. We invite you to keep reading and get the sneakers you like the most.
Keep an eye on the sneaker releases of the week. And, sooner or later, you will be going to visit our store and buy one of these models. Now, let's see what's new at the end of the first half of the year.
Bye-bye Air Force 1… Hello to the Hare Force 1, on Top Tier Trends on June 2, 2021
These are the new Space Jam-inspired sneakers. And give a nostalgic twist to one of Nike's most popular classic silhouettes. Recall that Space Jam marked the 1990s by pairing Michael Jordan with Bugs Bunny. As a result, this movie was a milestone in popular culture. Besides, it sold thousands of T-shirts and exploded the popularity of certain sneakers. For example, those worn by Jordan himself and by Bill Murray, who wore the Air Jordan 2.
Now that LeBron James is about to release his new version, Space Jam fever is back. So, Nike took the opportunity to release a collaboration that honors the two movies. That's to say, through one of their most successful silhouettes. The "Hare" Force 1's come with Nike's iconic silhouette. They also feature Bugs Bunny and Lola details on their Tune Squad T-shirts with a basketball in hand. They also have a white upper with light blue accents on the Swoosh, soles, and heel tab.
For now, there is no official release date nor has the price of these sneakers been revealed. At Top Tier, we invite you to keep an eye out, because they are sure to sell out.
So, let's continue with more news in Top Tier Trends on June 2…
If you couldn't get your hands on an Adidas Yeezy model, don't worry, they'll be back on sale this year!. Here on Top Tier Trends on June 2, 2021
Adidas Yeezy will take advantage of the rest of 2021 to re-release some of its sneaker models. For example:
The original Adidas Yeezy 700 ("Wave Runner")
The Yeezy 350 total white and total black)
The YEEZY FOAM RNNR "Sand".
And even the Yeezy flip-flops.
But if you were to run out of your Yeezy? Don't worry, the brand with the stripes has the solution: the restock. And that's what they're doing this year. In other words, sneakers are now part of the mainstream. They also arrive with the YEEZY FOAM RNNR "Sand" models. Also with the reissue of the YEEZY SLIDES flip-flops in "Pure", "Core" and "Resin".
More models and color combinations are likely to be added to this list throughout the year. We'll keep you posted here. So,
So far, you are liking these trends on June 2? Keep reading.
These are the New Balance that Tom Holland put the sneakerheads' interest in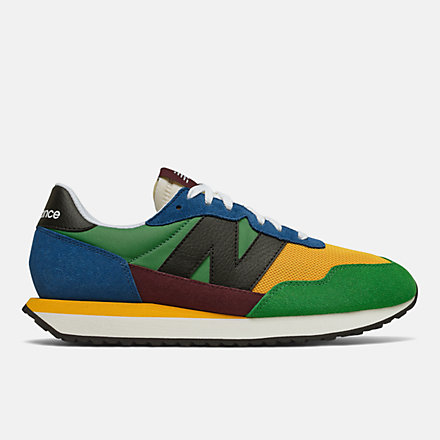 With his presence at the Monaco Formula Grand Prix, Tom Holland was the talk of the town. And not exactly because of some scandal for the paparazzi. It's because he was spotted there with the colorful retro sneakers that will set the trend for the rest of this year.
The Spiderman actor served as the best showcase for these New Balance 237s that are about to sell out. You'll love that 70's aesthetic for its versatility. And you can find them in 11 different colorways, from black and white to orange and white. Also, the New Balance 237 is the ultimate expression of comfort for two reasons: Its EVA rubber midsole, capable of cushioning even the strongest footsteps. The mesh is placed in the instep area, which guarantees flexibility and greater breathability.
In short: Holland himself brought unique shoes to the attention of fans of the N brand. You'll see how their color patches elevate their sophistication. Besides, you going to look great in your formal outfits. Even for your gym routines. And they can be yours for around $120. It's a most on our Trends on June 2.
It's time to look at some sandals for this summer
Summer is coming and with it comes outdoor activities. And so you can be outdoors in comfort, here are some of the best sandals for this year. For example, the Air Deschutz from Nike's All Conditions Gear collection. Although they sell out easily, this cream-colored pair is still on-trend. They also continue to stand out for their comfort and grip on the ground. In conclusion, one of the most recommended. Get them before they sell out.
Other sandals you can look for are Keen Unneek sandals. They are one of the best performings if that's what you need. Uneek also has an eye-catching tie-dye look that you won't go unnoticed.
And we finish with the Hydro Moc from Merrell. These sandals have in their Kahuna 3-Strap reference. One of the most interesting sandals of the moment. And they draw attention to their robust strap system that ensures that your foot stays in place. Besides, its powerful Vibram will keep you on your feet with full safety.
These Top Tier Trends on June 2, 2021, were fantastic, don´t you think?
Do you want more Top Tier Trends on June 2, 2021?
Hey! How were our Top Tier Trends on June 2, 2021? Feel free to share with us your comments. For specialized recommendations, Top Tier Kickzz news, and more, please check our blog every week. And if you want exclusive styles and the latest models available, please visit our shop right now.